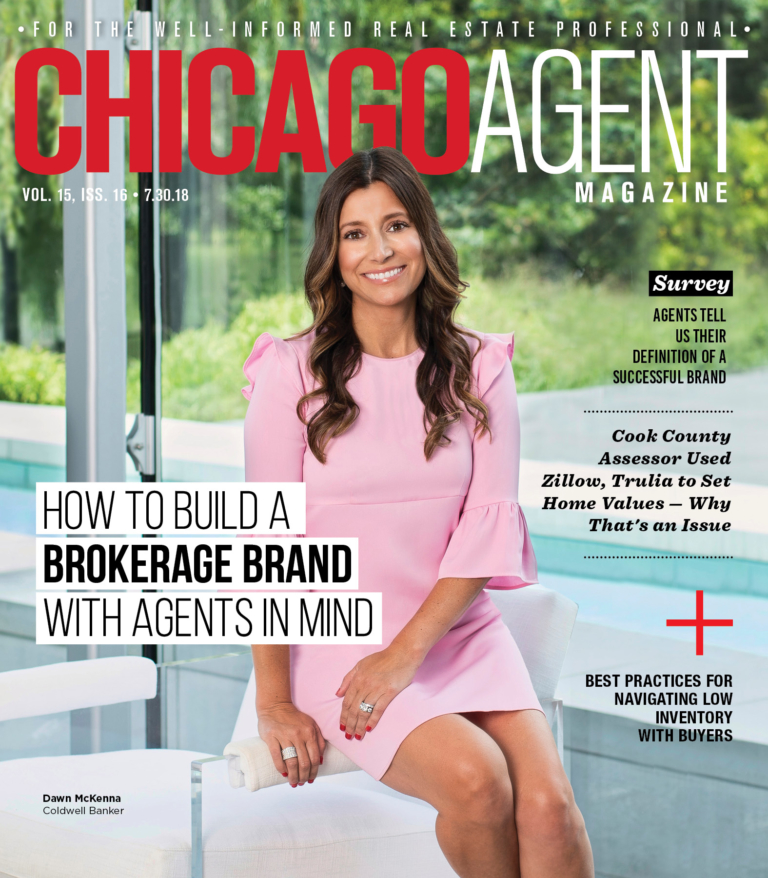 Whether an agent is just getting started in the industry or has already established a strong presence, branding is a key factor in being successful. A strong brand that encompasses everything from their reputation to the clientele they serve can help ensure that their business continues to grow as new clients are drawn to the services they offer. It gives agents a way to set themselves apart from other agents.
"I always encourage agents when they're creating their own brand to think about defining who their audience is, what makes them different, what they're trying to achieve and come up with a look and feel that fits," says Natasha Patla, vice president of marketing at @properties. "For 2018, we encourage agents to think about incorporating social media and content marketing. I feel like that's very important for newer agents, but also to keep it simple, define those things and create around it."
Establishing an audience
The starting point of any successful marketing campaign is to know the target audience. For real estate agents who are new to the business, that may mean deciding what portion of the market they want to make their primary focus. They may already know that they want to concentrate in a particular neighborhood or focus on luxury homes or condos, or that they specifically want to serve first-time homebuyers.
Newer agents may fall into the trap of trying to reach too broad an audience. It's natural to try to attract as much business as possible and to try to bring in new clients who can help an agent grow. However, creating marketing materials that are too generic can be detrimental when potential clients are looking for someone who really knows the market they're in and projects an ability to focus on their needs.
Chanté Blough, the marketing strategy and design manager for the Chicago region at Compass, focuses on helping agents create a brand that is specifically designed to reach their target audience.
"When we meet with agents and asked them who their audience is meant to be, the answer should not be 'buyers and sellers,'" Blough says. "The answer should be more in line with who they connect to. Something our agents do really well is they connect with their clients and they really take care of their clients. Part of that caring is understanding and having empathy for those clients. It's pretty easy for us to get to them to a point to say who they're trying to serve."
An agent's personal brand should help establish who they are, what clientele they represent and their market specialties. To be effective, logos, social media, print advertising other resources should be taken into consideration as part of an agent's strategy to reach that target audience.
"Everybody wants their home to be showcased to all people and to appeal to everybody that comes by," says Dawn McKenna, founder of Dawn McKenna Group with Coldwell Banker Residential Brokerage, who has been the No. 1 real estate broker in Hinsdale for over a decade, with over $1 billion in sales during her career. McKenna has worked with members of the Chicago Bulls and the Chicago Blackhawks, TV and radio personalities, and top business leaders, so she knows what it takes to support her luxury clientele. "I think you have to be very conscious of the most luxurious brands and how they captivated their audiences. You want to hit people between the eyes, but you don't want to shock them. You want it to be calm and pleasing and approachable."
Developing a strategy
There are so many marketing options available today that it can be tempting to try to embrace them all without fully committing to any of them. Agents also may try to include too many different messages in their marketing. Rather than serving to inform their clients, too much information can detract from the message the agent is trying to deliver.
Patla places an emphasis on the need for agents to appear approachable in all aspects of their marketing. They should come across as knowledgeable about their market, but without putting out too many messages.
"This is a business about relationships and you're working closely together with the client," Patla says. "Buying and selling a home is one of the most stressful things that people go through, so in the agent being that partner, the marketing and advertising should all reflect those attributes."
Both @properties and Compass employ a design team that agents can use, and they are encouraged to develop archetypes representing their ideal clientele. Marketing content is then developed that targets those archetypal personas, particularly through digital media.
"We try to have them utilize digital as much as possible because that gives us the ability to analyze the data behind that and ensure that we're making the best ROI for their budget," Blough says. "Social media also allows you to push a lot of content to clients that you might not have thought about reaching before. A lot of that is building up the content, helping them build a story for their brand and then aligning different demographics to that."
McKenna established a branding strategy early on to make sure her marketing efforts would remain consistent. "There's repetition in our imagery and in our group photos," she says. "Ads remain visually consistent. We like to shake up the main message with the headlines to share the latest statistics and successes, but at the end of the day it's just consistency."
To keep her brand in line with her own vision, McKenna employs a full-time graphic designer to make sure that the branding remains consistent across all mediums and stays true to Coldwell Banker's guidelines. She and her team members take a hands-on approach to proofing marketing materials for online and print publication. Her own aesthetics and color scheme were almost exactly those of Coldwell Banker's Global Luxury branding, so she didn't have to change much when the company unveiled that program last year.
"We really stick to our brand guidelines," she says. "We're tempted to stray, but again you need that consistency. We've tried to differentiate our marketing by staying original, rather than blending in with the others. I think it's that perfect blend that really seals the deal."
Agents at @properties have access to an internal advertising department that can help them produce high-quality materials that keep them in line with the corporate branding strategy. Agents might get assistance with the visual aspects of an ad, while the content may be limited to keep ads sharp, for example.
"We really support the agent in creating the basic look and feel of all the advertising," Patla says. "We can help control things so that their look and feel looks great with the @properties brand. We can help them rework a print ad. That same print ad isn't going to look right on Facebook as is, so we can help guide them there. We want them to still be able to get that same end message out, but we might do it in a slightly different way."
The aesthetic touch
Every agent's personal brand should be able to quickly capture the attention of their target clientele. Potential clients may quickly judge whether an agent is right for them based on the look of their ads. Photos, color schemes and the amount of text on the ad can all come together as part of a successful campaign.
Patla encourages agents to think deeply about these basic elements of their branding, as well as defining themselves and their target audience.
"We always encourage agents to look at other brands and to share those with us, even down to the font that they use and the colors," she says. "There are feelings that come out of that. It's really about taking that time up front and planning in terms of new agents setting out. As you go forward with the marketing you realize the tools that your company has for you as the market updates. You probably don't have listings right away to communicate, so it's about utilizing that market information, utilizing any emails that the company is preparing for them and the content being developed."
McKenna recommends that agents who are looking to develop an individual brand create mood boards that feature images, colors fonts that speak to them.
"It's no different from when you build a house or you find a house, or you're trying to decorate a bedroom," McKenna says. "You're looking through magazines or you see something Pinterest or on Instagram and you put it together, kind of like a pinboard of everything you like. You'd be surprised to find out that your eye goes to certain colors, whether it's blush or pink or black or white. You tend to embrace what your eye sees first. Go with something like that to find those patterns and create your brand guideline."
An emphasis on a simple black and white color scheme and a sleek overall look are the two most important branding guidelines that Compass agents have to follow, according to Blough. The brokerage's in-house design team works closely with individual agents to develop unique logos for them to use across their marketing materials.
"It's sophisticated and streamlined," Blough says. "What we try to do is allow our agents to be the focal point so that it's not all about our brokerage. We have a lot of really great, talented agents at and it's allowing them to shine."